Excerpts
Spoken
This twenty-four minute recording consists of several short readings from my memoir chapters and three ancestral chapters. The music that ties the stories together is played by my childhood best friend, Lauri Leaverton. In ninth grade our orchestra was composed of four people—Lauri and Janie Schneider on violin and my now husband, Howard, and me on viola. I am grateful that Lauri was willing to make the stretch to have us harmonize with word and music again as we have done so often over the forty-seven years of our friendship.
---
Written
A favorite story about my daughter, Laura. Laura has always been wise beyond her years.
Out of the Mouths of Babes
From Chapter 13, "Moving to the Frozen Edge of the Earth," page 109
Howard, Paul, Laura and I drove through Montana, Wyoming, Nebraska and western South Dakota. Along the way we stopped for a little culture at a Western museum. Holding hands, three-year-old Laura and I walked around looking at the Texas-sized paintings that filled the room. Cowboys rode across the plains hunting huge herds of bison. On a rocky bluff, Indians sat trading with White settlers. I noticed the color, the technique and the breathtaking landscape.
Puzzled, Laura stopped and asked, "Where are the women?"
Where indeed? I, in my grown-up wisdom, hadn't even noticed their absence. Not interested in feminist talk or gender theory, Laura saw the story held within the pictures—this was a man's world. She missed the women.
What else did she see that I no longer noticed?
Woman of Spirit and Faith invite women to submit a blog on a different topic each month. August 2013s theme was passing on the faith to the next generation. "This blog is a sacred space for the voices of women from all faith traditions and spiritual perspective to explore and express the many dimensions of the Divine Feminine." My submission, "From Grace Through Grace," includes a chapter from Big Topics at Midnight.
---
Illustrated
Given that the essence of my journey was exploring diversity, it only made sense to create a book that included both words and art. Khara Scott-Bey intuitively knew which nugget to pull from each chapter for the accompanying illustration.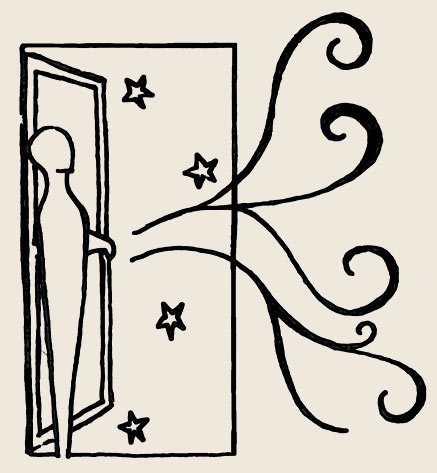 Khara Scott-Bey