Standing in the Gap
Opening the Conversation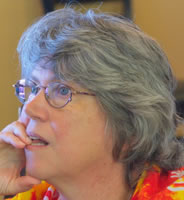 I wanted to know more about the years my ancestors lived in North Carolina. The only person I knew who lived in North Carolina was Alease Bess, my friend from a Be Present Race, Gender, Power & Class training. I wondered if her ancestors had been slaves in that state. Though we'd only visited once in the year since our 18-month training ended, I hoped she might have some information or a perspective that would help.
I brewed a cup of tea, sat down in the rare Portland, Oregon, winter sun that streamed through my front window and dialed her phone number. Alease answered from her log cabin nestled in Durham's pine trees.
After a quick catch up about our lives, I dove right into the middle of my story. I told Alease that Jacob Tipps, my great grandfather's great great-grandfather, destroyed thirty-six Cherokee villages during the Revolutionary War and owned thirteen Black human beings on his plantation in North Carolina. I told her I was haunted by dreams of Grace, the only slave mentioned by name in a family will.
Alease's family had indeed lived in North Carolina for generations. Her grandfather's grandfather was a slave. In addition, she told me, she was part Cherokee and Lumbee. She didn't know any of the details about her ancestors during the time of slavery.
"Do you think it's possible that our families might have lived on the same plantation?" I asked.
Both of us were quiet. I felt my heart beat faster.
My family lived in North Carolina for two generations, while Alease's family stayed there after they were freed. Despite the obstacles of post-slavery legalized racism, Alease's grandparents owned a thriving neighborhood store at the edge of their farm just outside Chapel Hill. The store was a gathering place for the surrounding African American community. This changed abruptly when the city of Chapel Hill took steps to build federally mandated public housing. Rather than construct this housing within the predominantly white Chapel Hill, the city government extended its boundary to include her grandfather's land. They immediately forced him to sell his farm, claiming it under the laws of "eminent domain." The city hired a local black preacher to convince their neighbors to accept the city's below-market offer to buy their homes, promising them an apartment in the soon-to-be-built public housing. Some of the neighbors were giving up small homes with wood heat and outhouses. For Alease's family, though, this deal required giving up their two-story home with central heat and bathrooms, a thriving private business and a productive farm in exchange for a public housing apartment.
Chapel Hill fulfilled its federal obligation while Alease's grandfather lost his livelihood, his land and his zest for life. The wealth and security of her family land did not flow through the generations as it had in mine.
While I silently pondered the differences between our families' experiences, I listened to Alease talk about Community Wholeness Venture, a ministry she'd founded. They created and taught "tools, strategies, and processes for very busy people to experience intimate, right relationship with God, with themselves, and with others in order to manifest the fullness of their purpose on planet earth." Community Wholeness Venture did all of this through community plays, consulting and a mentorship program. To deepen people's intimate connection with God and to guide the way for healing, Community Wholeness Venture practiced a transformative form of prayer-filled foot washing.
The wider work of the ministry, Alease explained, was addressing issues of injustice and inequality, building bridges across differences, and creating sustainable communities through helping people to identify and develop their spiritual gifts, leadership competencies and collaborative organizing strategies.
The biggest obstacle, however, had been securing funding for the heart of Community Wholeness Venture—their mentorship program. Rather than working with a large number of people, as funders often required, this aspect of the ministry focused on mentoring a small number of people to become spiritual leaders through healing of body, mind and spirit, building financial skills, nurturing self-esteem and supporting the development of each person's unique spiritual gifts and leadership. The current participants were black women working their way off welfare.
Alease said, "We can't change the world if we can't change ourselves."
I suddenly realized that each of the women in Community Wholeness Venture's mentorship program had her own ancestral story impacted and scarred by legal and illegal racism.
I felt God's hand at work bringing Alease and me together in ways I never imagined when I dialed the phone. I knew beyond the shadow of a doubt that my family—past, present and future—had mystically reunited with Alease, her family and the women she served.
Was the increased income that had just begun to flow into our bank account supposed to flow through us into the work of Community Wholeness Venture? I was too nervous to speak my jumbled thoughts aloud to Alease. Not yet. I needed to pray about it first, ponder some
more and talk to Howard.
When the call ended, I shut my eyes and soaked in the sun's warmth.
My heart pounded.
I knew that something that had long been ripped apart was being woven together during our call. This conviction didn't stop my mind racing to list all the reasons bringing money into my relationship with Alease was crazy. How could our income have anything to do with a larger plan for an organization like Community Wholeness Venture? Was l caught in another crazy scheme to feel better about my past by trying to buy my way into peace? How in the world could money given today have any relationship to something that took place generations ago?
A few hours later I spoke about the afternoon's events to Howard, expecting his usual cautiousness. Instead, he listened, then nodded. It seemed like a strange idea, yet it made sense to him too. Together both of us felt guided to step further into relationship with Alease and Community Wholeness Venture. We waited a few days to see if any other concerns emerged.
Those three days hovered in the thin place where daily life was just a breath away from the larger, divine movement in the world.
At the end of that time, Howard and I remained settled with our decision. I called Alease back and said, "We believe that we are to give to Community Wholeness Venture as an act of restitution."
Read more about what happened next.
Read one example of what Standing in the Gap together has looked like for the two of us.
Read more about a collaborative nine-year process of gifting/receiving a farm in Mississippi.