Family Writings
Photo Given Across the Generations
Looking through the family files I inherited from my mother, Sue Mathys, I found a yellowing envelope. Inside was a photograph of her father, O.R. Tipps, and a letter written to my mother by her mother, Ruth Tipps (whom I called "Mano") 1970.
I was startled by the last paragraph. Did she have an inkling that I would one day receive the family genealogy, photographs and letters and use them at the heart of my book? I love the mysterious way things move down the generations.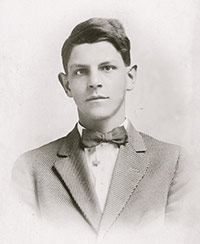 Dear Sue,
From your mother to the mother of a couple of my grand-children. I'm enclosing a picture of O.R. It was made last summer-1969.
Happy Mother's Day.
Also I'm enclosing a picture of O.R. made when he was 17 years old. Here's the story behind it.
O.R. gave this to Mr. Hunter for a Christmas present when he was Principal of Aubrey High School [where O.R. lived and attended school after he ran away from home at 16].
Years later Mr. Hunter moved to Amarillo and was principal of a grade school for many years. One of his [i.e. the grade school's] teachers, also of long standing, was Mary Allie Persons. And a common bond between them was that they both knew O.R.—a teacher-pupil combination.
A few years ago both Mr. Hunter and Mary Allie retired and in their cleaning out Mr. Hunter found this picture and gave it to Mary Allie.
Mary Allie decided it should be yours, and gave it to me last Sunday while we were in Quitaque [Texas, where my mother was born]. So I am sending it on to you.
But I'm also going to have my say and you can think it over.
Since Nancy is his only grand-daughter I really think it should be hers.  But the choice is yours.
Sorry we can't be there [in Midland, Texas] to celebrate with you.
Love, Mom