Family Photos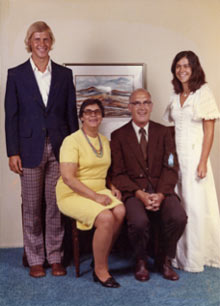 Glenn, Sue, Ed and Nancy Mathys
1973
I love my Tipps family's strength of character, yet I also blame my obstinacy on those same relatives. My daughter, Laura, says I gave her my compulsion to be at least ten minutes early in order to feel "on time," just as I said my father gave it to me. We all look back to our family roots to understand our innate talents and unsightly shortcomings.
Welcome to my family photo album, with a little twist. It includes photos from across the generations and a small reflection on a family pattern or trait I see in the photos. I'll note things I'd like to honor and ones I'd like to shift for myself and for generations to come.
I invite you to join me. I hope that my reflections encourage you to return to your own family photos to do the same.