Book Community
It takes a whole village to raise a child and to birth a book. I may have sat at the computer alone, but others walked along side me, each offering their own gifts, support and flair. I am deeply grateful for each one.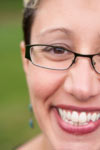 I'm Jen Violi, author of Putting Makeup on Dead People, creating my life amidst the green and caffeine in Portland, Oregon. Also, I help writers bring forth the books they were meant to write. Will I coach you? Yes. Will I edit? You can count on it. But book writing is personal and life changing, and what I offer also honors that. Side effects can include back pain, weird food cravings and big feelings, so my work with writers includes healthy supplements of compassion, reverence and pickles, as needed. Contact me at jenvioli@gmail.com so we can talk about your book! Or learn more at www.jenvioli.com.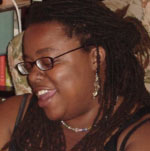 Native Ohioan Khara Scott-Bey currently resides in Berkeley, California, where she received her MA in Expressive Arts Therapy at the California Institute of Integral Studies. Her work as a therapist is rooted in her work as an activist and artist. Khara's approach is grounded in social justice work, Womanist Psychology, Jungian theory, and Person Centered practices. She is a practitioner of Generative Somatics and a Be Present workshop facilitator. Currently Khara is an assistant teacher for Generative Somatics, has a budding private practice and works as a domestic violence advocate for GLIDE's women's center in San Francisco. Big Topics at Midnight is the first book Khara has illustrated. For more information on Khara and her modalities, visit www.livetobecome.com.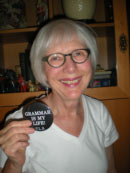 I'm Ann Eames, a woman who has read other people's work for over 35 years. As a middle school English teacher, I learned the art of deciphering, encouraging and teaching. As a newsletter editor, I learned how to honor writers' styles while helping them clarify, refine and polish their articles. Recently, I have enjoyed copy editing memoirs and tales of inner journeys. I've had vicarious adventures, all the while helping authors say what they mean. When I am not editing the work of others, I am a voracious reader of fiction and non-fiction, although I have a tendency to edit those books, too. In addition, I am a grammar geek. Really, there is something energizing about a discussion of participles and gerunds. If we should talk, contact me at anneames@yahoo.com.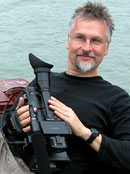 I'm Lubosh Cech, a visual artist working as a graphic designer, filmmaker, painter, photographer and branding consultant. Born in Prague, Czech Republic, I'm classically educated in studio art and art history. After escaping the communist regime of my homeland, I was granted a political refugee status in the United States and settled in Portland, Oregon. As a long-time meditator, I believe that cultivating consciousness and beauty can benefit everyone's life. In my own life and work, I want to help break down the conditioning that is keeping us from seeing the greater reality we live in. Please join me in this effort: www.luboshcech.com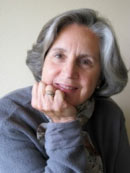 Christina Baldwin was a founder of the journal writing movement in the late 1970s. For over 20 years she has taught a classic memoir seminar that has helped amateur and avocational writers deepen their practice from private pleasure to published books. She is a global pioneer in personal writing and circle process—connecting these passions through the art of storycatching, creating respectful spaces for speaking and listening, writing and reading. Her company, co-founded with Ann Linnea in 1994, is PeerSpirit. Her best known titles include, Life's Companion, Journal Writing as Spiritual Practice, Storycatcher, Making Sense of our Lives through the Power and Practice of Story, and The Circle Way, A Leader in Every Chair (with Linnea). www.peerspirit.com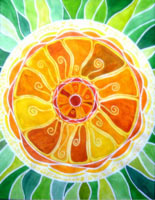 Painting by Khara Scott-Bey
If a book is brewing inside you, consider contacting some of these amazing people to help bring your words out into the world.